PSRS/PEERS Portfolio Manager Jessica Wilbers Recognized by Institutional Investor Magazine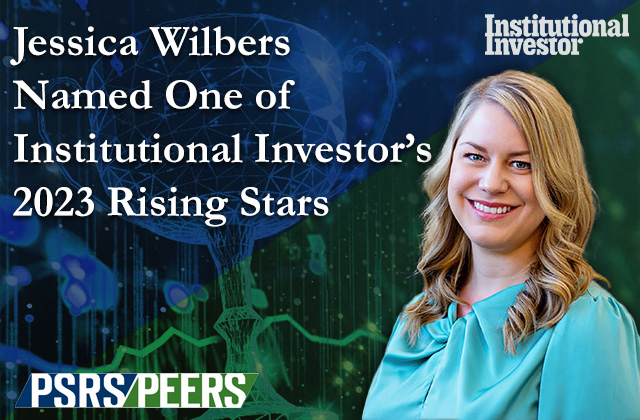 PSRS/PEERS Portfolio Manager Jessica Wilbers has been named by Institutional Investor magazine as one of its 2023 Rising Stars.
Institutional Investor's editorial team chose the Rising Stars from a vast and competitive pool of talented allocators nominated by their peers, bosses and industry experts. The 14 Rising Stars will be honored during Institutional Investor's sixth annual Allocators' Choice Awards on September 12, 2023 at the Mandarin Oriental hotel in New York City.
These allocators, who work across the United States in both public and private institutions, are positioned to one day become talented leaders within the institutional investment industry.
Jessica, a public markets portfolio manager, is being recognized for her important contributions to PSRS/PEERS' non-U.S. equity composite allocation, resulting in additional investment revenue of more than $1.2 billion to the fund over the past five years. Thanks to Jessica's work, the composite has experienced performance in the top 10% of such funds during that time.
"Jessica displays outstanding manager selection, skillful portfolio construction and the ability to introduce new concepts to our portfolio," said PSRS/PEERS Chief Investment Officer Craig Husting. "She is a dedicated, talented and motivated member of our investment team and she is very deserving of this recognition."
Jessica began working at PSRS/PEERS as an investment intern in May 2008. She started full-time in March 2010 and was promoted to portfolio manager – public markets in July 2021. She joins an esteemed group of PSRS/PEERS investment alumni that have previously received this honor including Travis Allen, Dan Case, Ben Frede, Chad Myhre and Chhayhea Sam.