Dr. Kyle Collins to Retire, Step Down from the PSRS/PEERS Board of Trustees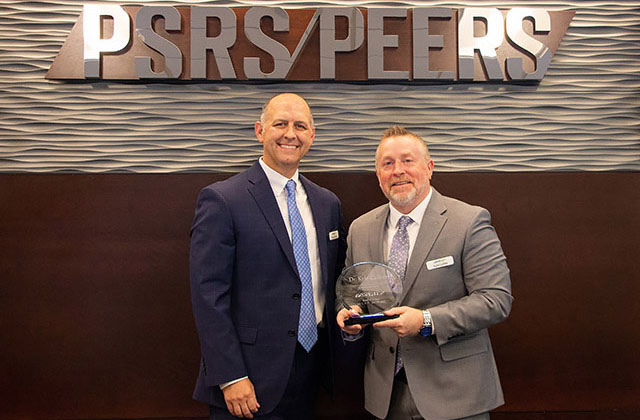 At the April 17, 2023 Board of Trustees meeting, the Board and staff honored Dr. Kyle Collins for his Board service. Dr. Collins will retire with PSRS on July 1 and as a result, will step down from his seat as a trustee representing active PSRS members effective July 1, 2023.
He was elected to the Board in May 2020 and was serving a four-year term from July 1, 2020 to June 30, 2024. During his time as a trustee, his educational and administrative background and experience made him a valuable and effective advocate for PSRS and PEERS members.
"I am humbled and thankful to have had the opportunity to serve the membership of PSRS/PEERS as a Trustee," Collins said. "My time as a member on the Board has been one of the most educational and rewarding experiences of my career. It has been an honor to serve with my fellow Board of Trustees members. I am inspired by their dedication, integrity and their commitment to the success of our retirement system." He added, "The leadership and staff of the PSRS/PEERS organization are second to none. Their knowledge, professionalism, ability and commitment to our membership gives me great confidence that PSRS/PEERS will continue to be one of the most outstanding retirement systems in the nation."
Dr. Collins has more than 25 years of educational experience, most recently as superintendent of the Brookfield R-III School District. Dr. Collins holds a Bachelor of Science degree in government and a master's in secondary administration from Northwest Missouri State University, as well as a doctorate in educational leadership and policy analysis from the University of Missouri-Columbia.
"Dr. Collins' experience and long-term service to education has brought a unique perspective to the Board and has helped shape our discussions on policy through his vast knowledge of Missouri politics and educational history," said Board Chair Jason Steliga. "I know that his impact on the field of education is not finished and am hopeful, as he ventures off into the world, that he enjoys this well-deserved retirement."
"It has been a real pleasure working with Dr. Collins," said PSRS/PEERS Executive Director Dearld Snider. "He has been an integral and important part of our Board for the last three years, and we have benefitted greatly from his knowledge, experience and insight as a school administrator. We are grateful for his contributions to the Board and to the Retirement Systems. We wish him all the best as a PSRS retiree."
According to PSRS/PEERS statutes and regulations, Dr. Collins' seat will remain vacant until filled at the next regularly scheduled Board of Trustees election, which will take place in the spring of 2024.