Steliga Retains Seat on PSRS/PEERS Board of Trustees; Gassmann Joins as Newest Trustee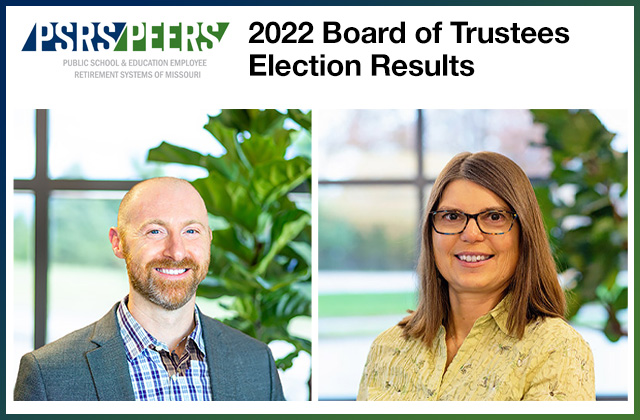 Incumbent Board member Jason Steliga, whose current term on the Board ends June 30, 2022, and Allie Gassmann of Columbia, MO, will begin four-year terms as trustees starting July 1, 2022 and serve through June 30, 2026. Both completed the required filing qualifications to be candidates for Board seats. With two open seats and two qualified candidates, no election was required.
Individuals interested in running for these seats were asked to obtain petition forms from PSRS/PEERS and return them by February 24, along with 200 or more member signatures from each of any four Missouri congressional districts, plus sufficient additional signatures to total at least 1,000 signatures. All active and retired members of PSRS and PEERS are eligible to sign petitions and vote for candidates.
An auditing committee comprised of representatives of various Missouri educational associations examined the petitions March 10 and certified to the Board that the candidates were qualified.
Steliga, an elected PSRS member, joined the Board October 21, 2015. He has 18 years of teaching experience, and is presently teaching at Park Hill South High School, located in Riverside, MO.
Gassmann is a parent educator for the Columbia Public Schools' Parents as Teachers (PAT) program. She served as chair of the Columbia MNEA PAT bargaining team and is currently a Columbia MNEA building representative. She will serve as an elected PEERS member of the Board.
"We are happy to welcome our newest trustee, Allie, and also pleased to continue our work with Jason, an experienced member of our Board, said PSRS/PEERS Executive Director Dearld Snider. "Both bring unique and valuable experience and insight to the group. We value their willingness to serve as trustees and know they will be dedicated to working on behalf of our members."