PSRS/PEERS Names Stacie Verslues Director of Employer Services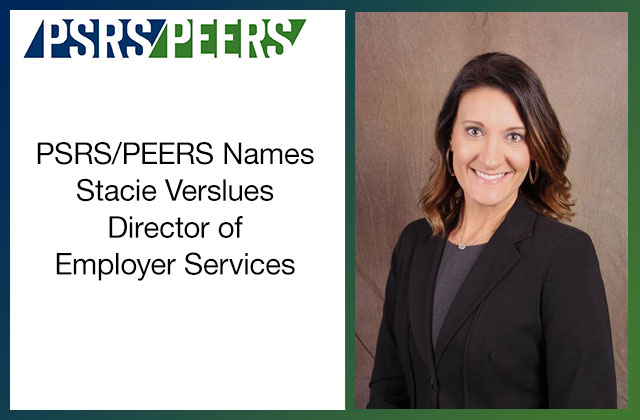 Stacie Verslues, of Jefferson City, MO, has been named director of employer services for the Public School and Education Employee Retirement Systems of Missouri (PSRS/PEERS) effective June 1, 2021.

Verslues joined PSRS/PEERS in 2005 and has 11 years of supervisory experience with the Retirement Systems. Since 2018, she has served as director of executive and board administration, a role in which she was responsible for working with and providing guidance to executive staff and senior management on a variety of projects.

From 2010 to 2018 she served as member education supervisor, and was responsible for the planning and coordination of all member-related educational programs and activities.

Verslues replaces Omar Davis, who left the position in April 2021.

She has a Bachelor of Science in Business Administration from Lincoln University and is a Certified Retirement Counselor (CRC).

"We are looking forward to the contributions Stacie will make in her new role as employer services director," said PSRS/PEERS Assistant Executive Director Bill Betts. "She is a proven member of our team and we know she and her staff will continue to provide the best possible service for our partner employers."

Learn more about the PSRS/PEERS management team.