Bill Betts Named Assistant Executive Director, Operations for PSRS/PEERS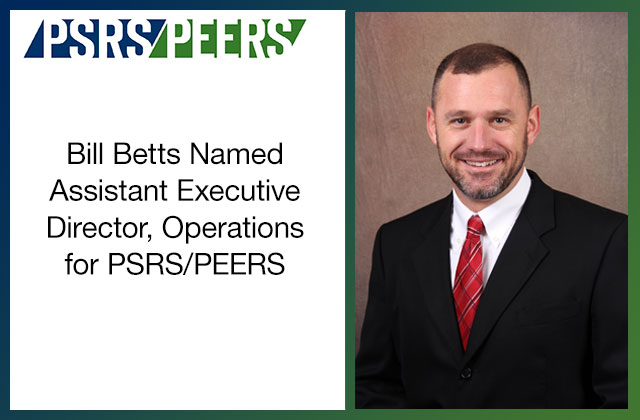 Bill Betts, of Jefferson City, Missouri, has been named assistant executive director, operations for the Public School and Education Employee Retirement Systems of Missouri (PSRS/PEERS) effective January 11, 2021.
Betts, who currently serves as PSRS/PEERS' chief technology officer, will replace Dearld Snider, who was recently tapped to serve as the Systems' executive director, upon the retirement of long-term director, Steve Yoakum.
"Bill's management experience combined with his dedication to a high level of service makes him an excellent fit for the position," Snider said. "I look forward to working with him in his new role."
As assistant executive director, his primary responsibilities will include day-to-day system operations and acting in an advisory capacity to the PSRS/PEERS executive director and Board of Trustees.
"I am grateful for the opportunity to serve PSRS/PEERS, our covered employers and our members as assistant executive director, operations," said Betts. "I share management and staff's dedication to making sure our members continue to enjoy being part of a stable, well-funded retirement system that provides them with excellent service and financial security in retirement."
Betts joined PSRS/PEERS in 2015. Prior to joining PSRS/PEERS, Betts worked for the City of Jefferson for 10 years, serving as director of information technology and finance.
He is a graduate of Lincoln University in Jefferson City, Missouri, with a degree in computer information systems. He is also a certified Project Management Professional (PMP).
PSRS/PEERS provides service retirement, disability and survivor benefits for more than 129,000 active members and approximately 98,000 retired Missouri public school teachers, school employees, and their families. The total assets of both PSRS and PEERS were $45.6 billion as of June 30, 2020, making the combined entity larger than all other public retirement plans in the state combined, and the 45th largest defined benefit plan in the United States.