Dearld Snider Named Executive Director of PSRS/PEERS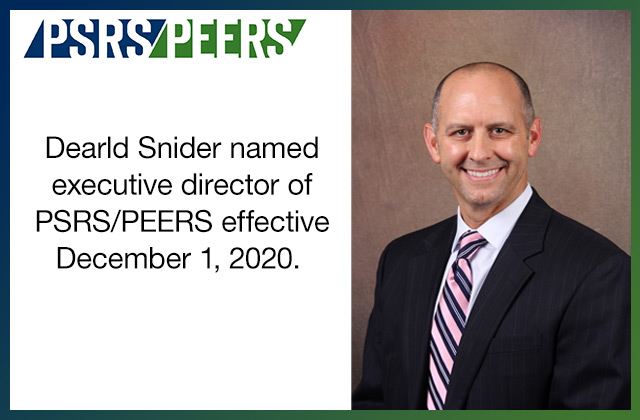 Dearld Snider has been named executive director of the Public School and Education Employee Retirement Systems of Missouri (PSRS/PEERS) effective December 1, 2020.
Snider, who currently serves as PSRS/PEERS' assistant executive director, operations, replaces M. Steve Yoakum, who will retire December 1 after 22 years in the position. Upon Yoakum's announcement to retire, the PSRS/PEERS Board of Trustees retained EFL Associates to assist in the national search for a new executive director.
"Dearld has a proven track record of results for PSRS/PEERS," said Yoakum. "He has a solid understanding of the Systems based on practical experience. I am confident he will lead the Systems with the same dedication and energy he has shown in his current and past roles here."
Snider has been with PSRS/PEERS since January 2006, serving as director of member services prior to being named assistant executive director, operations. As assistant executive director, Snider's primary responsibilities include day-to-day system operations and acting in an advisory capacity to the PSRS/PEERS executive director and Board of Trustees.
"It is very exciting and humbling to have the opportunity to continue serving PSRS/PEERS as executive director," Snider said. "Steve (Yoakum) has provided outstanding service for our members, employers, Board of Trustees, and staff for more than 20 years. I look forward to working to ensure we continue to provide the highest level of service for all our stakeholders, and retirement security for our members."
His career began at Missouri Consolidated Health Care Plan, where he served for over three years. In 1999, he joined the Missouri State Employees' Retirement System (MOSERS) and became an active member in the National Pension Education Association (NPEA) serving on their board of directors for six years.
Snider graduated with a Bachelor of Arts degree in political science from the University of Missouri-Columbia in 1995. He later received his Master of Business Administration from William Woods University in 1998. In January 2009, he was appointed to the Firefighter's Retirement Board in the City of Columbia where he served a four-year term.
He resides in Columbia, Missouri, with his wife, Amber. They have two daughters, one attending Columbia Public Schools and one attending the University of Missouri-Columbia.
PSRS/PEERS provide service retirement, disability, and survivor benefits for more than 129,000 active members and over 97,000 retired Missouri public school teachers, school employees, and their families. The total assets of both PSRS and PEERS were $45.6 billion as of June 30, 2020, making the combined entity larger than all other public retirement plans in the state combined, and the 45th largest defined benefit plan in the United States.