August 2020 Board Meeting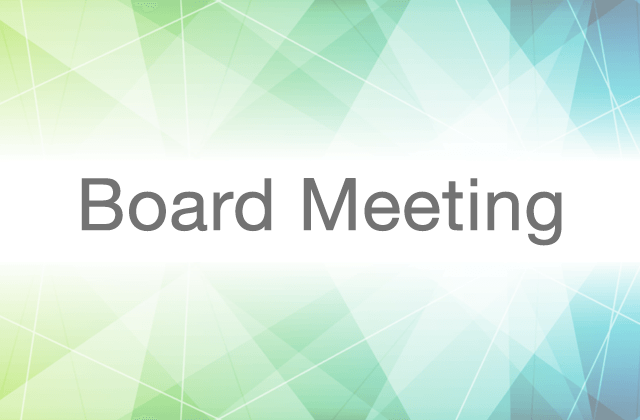 The August 31, 2020 meeting of the Public School and Education Employee Retirement Systems of Missouri (PSRS/PEERS) Board of Trustees convened at 8:30 a.m. In attendance were Board members Jason Hoffman, Jason Steliga, Kyle Collins, Scott Hunt, Sharon Kissinger, Beth Knes and Melinda Moss. Also present were Executive Director, M. Steve Yoakum; Assistant Executive Director, Investments, Craig Husting; Assistant Executive Director, Operations, Dearld Snider; General Counsel, Sarah Swoboda; Chief Financial Officer, Anita Brand; Director of Member Services, Nicole Hamler; Director of Employer Services, Omar Davis; Director of Legislation and Policy, Maria Walden; Director of Communications, Susan Wood; Chief Technology Officer, Bill Betts; Human Resources/Benefit Plan Administrator, Kim Harris; Director of Administrative Planning and Design, Stacie Verslues; and various other PSRS/PEERS staff members.
---
Regular Board Meeting
System Operations
Minutes
The open session minutes from the June 8, 2020 (Board education day), June 9, 2020 meeting and August 7, 2020 special meeting were approved by unanimous vote.
Order of Business
None
Appointment of Budget and Audit Committee Members
Board Chair Mr. Jason Hoffman noted that with Dr. Zalis and Ms. Heath retired from the Board, there are two vacancies on the Budget and Audit Committee. Mr. Hoffman offered to serve on the committee, as did Ms. Beth Knes. The two were nominated for the positions and those nominations were approved by unanimous vote.
Investment Report
Fiscal Year 2020 Performance and Attribution
Mr. Craig Husting from PSRS/PEERS and Ms. Margaret Jadallah (virtually) from Verus (the Systems' Investment Consultant) provided a detailed presentation on the PSRS/PEERS' fiscal year 2020 investment performance. The presentation included the following: (1) a review of the Systems' investment principles, philosophy and asset allocation, (2) a summary of fiscal year 2020 performance, (3) a review of the private markets activity, (4) PSRS/PEERS' performance relative to expectations and relative to a peer group, (5) attribution for fiscal year 2020 performance, (6) a review of fiscal year 2020 objectives and a description of fiscal year 2021 objectives, and (7) a market outlook and update on fiscal year 2021.
Mr. Husting reported that the preliminary fiscal year 2020 (July 1, 2019 through June 30, 2020) investment return for PSRS/PEERS was 3.9%, or 3.7% net of all fees and expenses. The Systems underperformed the policy benchmark, which returned 5.0% for the year.
Mr. Husting reported that the 10-year annualized return for the Systems for the period ending June 30, 2020 was 9.0%, or 8.8% net of all fees and expenses. The Systems outperformed the policy benchmark, which returned 8.5% for the 10-year period. The 10-year PSRS and PEERS investment return exceeded 63% of the peer group as defined by the Wilshire TUCS universe of public pension plans with assets in excess of $1 billion. The Systems generated the investment return while taking less risk than approximately two-thirds of comparable public funds. The PSRS/PEERS' internal investment staff and external investment managers added value above the policy benchmark of over $1.2 billion, net of all fees and expenses, for the last 10 years. The outperformance was due to portfolio construction and tactical asset allocation decisions by internal investment staff (overweighting and underweighting asset classes around targets), as well as active management on the part of external managers.
Management Report
Certificate of Achievement for Excellence in Financial Reporting (GFOA)
Mr. Steve Yoakum from PSRS/PEERS shared with the Board that the Systems were awarded the Government Finance Officers Association (GFOA) Certificate of Achievement for Excellence in Financial Reporting for the Systems' fiscal year 2019 Comprehensive Annual Financial Report (CAFR). The Systems have received the GFOA Certificate of Achievement each year since 1994. Ms. Anita Brand from PSRS/PEERS explained to the Board that the CAFR is a collaborative effort among departments. Ms. Brand covered the eligibility requirements, as well as the judging process for the award. She also reminded the Board of the importance of the CAFR, as it is an accumulation of all activity conducted by the Systems during the fiscal year.
Appointment of NCTR Delegates
Mr. Jason Steliga, Ms. Beth Knes and Mr. Steve Yoakum were nominated by a unanimous vote to serve as delegates, with Mr. Dearld Snider and Ms. Stacie Verslues as alternates, at the annual National Council on Teacher Retirement (NCTR) Conference being held in October 2020.
CEM Benchmarking
PSRS/PEERS participated in the CEM benchmarking study based on fiscal year 2019 performance. Mr. Dearld Snider from PSRS/PEERS and Ms. Kam Mangat with CEM Benchmarking Inc. presented a summary of the final report. CEM benchmarked PSRS/PEERS' service and costs compared to 72 leading global pension systems, including 11 in our peer group that are similar in size.
For the fourth straight year, the results were very positive, with an overall service score of 88 out of 100. This high level of service was provided in a cost-efficient manner with total administration costs drastically below the average cost of the CEM universe.
Ms. Mangat explained to the Board how CEM measures both costs and service by analyzing over 120 key performance metrics. Mr. Snider expressed his appreciation to CEM, but more importantly, to the staff of PSRS/PEERS for continuing to provide a high level of service in a cost-efficient manner.
Member Services Report
Ms. Nicole Hamler from PSRS/PEERS shared with the Board a video highlighting the member services' staff working remotely. Ms. Hamler commended her team for continuing to provide a high level of customer service even during these uncertain times. She reviewed statistics for the 2019-2020 fiscal year regarding the number of inquiries handled by the information center, records, retirements, deaths and refunds processed, and total member education meetings held throughout the state. Ms. Hamler also presented to the Board information regarding total membership statistics, active service information, benefits, working after retirement and Web Member Services usage.
Facility Renovation
Mr. Snider provided a high-level recap of the construction timeline for the new addition and renovation. Construction of the new addition is in its final stages and on track to be complete in November 2020. Renovation is in full swing throughout the current building and presently set to be complete in September 2021.
CPI-U Update
Mr. Steve Yoakum reviewed the COLA policy that was set by the Board at their November 3, 2017 meeting. According to the policy, COLAs may be granted based on the Consumer Price Index for Urban Consumers (CPI-U) as follows:
PSRS/PEERS Board Approved Funding Policy
CPI-U
COLA per Board-Approved Funding Policy
Less than 0.0%
0.0%
0.0%-2.0%
0.0% when CPI-U is cumulatively below 2.0%
0.0%-2.0%
2.0% when CPI-U cumulatively reaches 2.0% or more*
2.0%-5.0%
2.0% when the CPI-U is at least 2.0%, but less than 5.0%
5.0% or more
5.0%
*resets cumulative calculation after a COLA is provided
Mr. Yoakum explained that the CPI-U is calculated by the Bureau of Labor Statistics (BLS). The CPI-U is the measure of the change in prices of goods and services purchased by urban consumers between any two time periods. PSRS/PEERS' regulations require that the time period for the CPI-U calculation used in the determination of a COLA be from June to June. Based on the values provided by the BLS, the CPI-U is up 0.6457% through June 30, 2020. This brings the total cumulative 2.2942% through June 30, 2020.
| Period | CPI% |
| --- | --- |
| Previous FY Cumulative | 1.6485% |
| Current FYTD | 0.6457% |
| *Total Cumulative | 2.2942% |
The CPI-U calculation for Fiscal Year 2020-2021 is:
Raw CPI-U Index Values
Index Values
June 2020
257.797
Month
To-Date
July 2020
259.101
0.0051
0.5058%
The beginning CPI-U for 2020-2021 is at 0.5058% through July 31, 2020. The August reading for the CPI-U will not be released until September 11, 2020.
Other
Mr. Yoakum announced his retirement effective December 1, 2020. More information can be found on our website.
Closed Session
The Board went into closed session at 12 p.m.
Adjournment
The Board adjourned at 2:15 p.m.
This summary is not official minutes of the PSRS/PEERS Board of Trustees Meeting. The official minutes will be approved at the next PSRS/PEERS Board of Trustees meeting and will posted to our website at that time.