PSRS/PEERS Welcomes Melinda Moss and Kyle Collins to Board of Trustees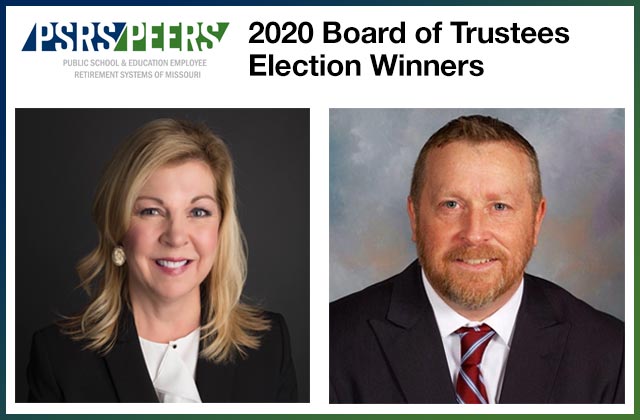 PSRS/PEERS congratulates Dr. Melinda Moss and Dr. Kyle Collins on their recent election to the Board of Trustees. Both are active PSRS members who will serve four-year terms as Trustees effective July 1, 2020 through June 30, 2024.
These seats are currently held by Dr. Aaron Zalis and Yvonne Heath, whose terms end June 30, 2020. Both Zalis and Heath will retire and leave the Board.
Dr. Melinda Moss has 27 years of educational experience. She is currently the superintendent of the Joplin School District. Dr. Moss graduated from the University of Arkansas with a degree in finance and banking. She received her special education coursework and master's in guidance and counseling from Missouri State University. Her doctorate is in educational leadership from Saint Louis University.
Dr. Kyle Collins has over 22 years of educational experience. He is currently the superintendent of the Brookfield R-III School District. Dr. Collins holds a Bachelor of Science degree in government and a master's in secondary administration from Northwest Missouri State University, as well as a doctorate in educational leadership and policy analysis from the University of Missouri-Columbia.
"Our thanks to all of the members who participated in this election, as well as to all those who ran as candidates," said PSRS/PEERS Executive Director Steve Yoakum. "We are fortunate that our membership remains so interested in the effective operation of our Board and leadership our trustees provide for the Retirement Systems." He added, "We are pleased to welcome Dr. Moss and Dr. Collins and appreciate their willingness to dedicate their time and knowledge to the administration of the Systems. We look forward to working with them."