August 2019 Board Meeting Summary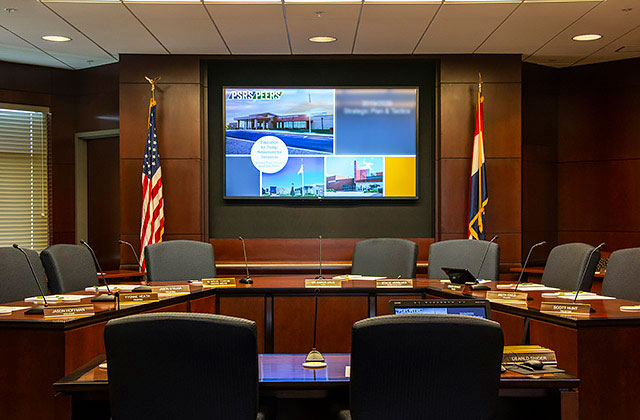 The August 26, 2019 meeting of the Public School and Education Employee Retirement Systems of Missouri (PSRS/PEERS) Board of Trustees convened at 8 a.m. In attendance were Board members Aaron Zalis, Jason Hoffman, Chuck Bryant, Yvonne Heath and Scott Hunt. Board members Beth Knes and Jason Steliga were absent. Also present were Executive Director, M. Steve Yoakum; Assistant Executive Director, Investments, Craig Husting; Assistant Executive Director, Operations, Dearld Snider; General Counsel, Sarah Swoboda; Chief Financial Officer, Anita Brand; Director of Member Services, Nicole Hamler; Director of Employer Services, Omar Davis; Director of Internal Audit, Jeff Hyman; Director of Legislation and Policy, Maria Walden; Director of Communications, Susan Wood; Chief Technology Officer, Bill Betts; Human Resources/Benefit Plan Administrator, Kim Harris; Director of Administrative Planning and Design, Stacie Verslues; and various other PSRS/PEERS staff members.
---
Regular Board Meeting
System Operations
Minutes
The open session minutes from June 10, 2019 and June 17-19, 2019 (Board education) meetings were approved by unanimous vote.
Order of Business
Mr. Steve Yoakum from PSRS/PEERS presented plaques to former employees Darla Baslee and Curtis Colbert recognizing their recent retirement from PSRS/PEERS.
Recognitions
Dr. Aaron Zalis also recognized Jason Hoffman, Board vice-chair and chief financial officer/chief operations officer for Jefferson City Public Schools, for receiving the 2019 Distinguished Eagle Award from the Association of School Business Officials International. The Eagle Award is a lifetime achievement award program that celebrates the very best in school business leadership.
Mr. Yoakum presented Anita Brand, chief financial officer, the "Certificate of Achievement for Excellence in Financial Reporting" – the highest form of recognition given by the Government Finance Officers Association of the United States and Canada.
Investment Report
Fiscal Year 2019 Performance and Attribution
Mr. Craig Husting from PSRS/PEERS and Mr. Barry Dennis from Verus (the Systems' investment consultant) provided a detailed presentation on the PSRS/PEERS fiscal year 2019 investment performance. The presentation included the following: (1) a review of the Systems' investment principles, objectives and philosophy, (2) a summary of fiscal year 2019 performance, (3) PSRS/PEERS' performance relative to expectations and relative to a peer group, (4) attribution for fiscal year 2019 performance, (5) a review of fiscal year 2019 objectives and a description of fiscal year 2020 objectives, (6) a review of the actuarial assumed rate of return for PSRS/PEERS and (7) a market outlook and update on fiscal year 2020.
Mr. Husting reported that the fiscal year 2019 (July 1, 2018 through June 30, 2019) investment return for PSRS/PEERS was 7.0%, or, 6.8% net of all fees and expenses. The Systems underperformed the passive benchmark, which returned 7.3% for the year.
Mr. Husting reported that the five-year annualized return for the Systems for the period ending June 30, 2019 was 6.9%, or, 6.7% net of all fees and expenses. The Systems outperformed the passive benchmark which returned 6.2% for the five-year period. The five-year PSRS and PEERS investment return exceeded 69% of the peer group as defined by the Wilshire TUCS universe of public pension plans with assets in excess of $1 billion. The Systems generated the investment return while taking less risk than approximately three-fourths of comparable public funds. The PSRS/PEERS internal investment staff and external investment managers added value above the policy benchmark of over $1.2 billion, net of all fees and expenses, for the last five years. The outperformance was due to portfolio construction and tactical asset allocation decisions by internal investment staff (overweighting and underweighting asset classes around targets) as well as active management on the part of external managers.
Managment Report
Appointment of NCTR Delegates
Ms. Yvonne Heath, Mr. Chuck Bryant and Mr. Steve Yoakum were nominated by a unanimous vote to serve as delegates, with Mr. Dearld Snider and Ms. Stacie Verslues as alternates, at the annual National Council on Teacher Retirement Conference being held in October 2019.
Amendments to Regulations
Ms. Sarah Swoboda from PSRS/PEERS presented several proposed amendments to PSRS/PEERS regulations.
Board Meeting Dates
The proposed amendment to 16 CSR 10-1.010 is regarding the general organization of the Systems.
The proposed amendment allows the Board chair to reschedule a regular meeting for a month other than February, April, June, August, October or December or move a meeting to an alternate location for good cause. Examples would be, but are not limited to, weather concerns, natural disasters or unforeseen schedule issues.
Working After Retirement – Community Colleges
House Bill 77 and CCS Senate Bill 17 were passed by Missouri legislature during the 2019 session and signed by Governor Parson. The proposed amendment is to 16 CSR 10.5010(6) placed PSRS retirees working after retirement for community colleges back under the 550-hour/50% of salary limitations, instead of the $15,000 salary limitation that had been imposed under the last year's Senate Bill 892. The revision also makes a few clean up edits that are non-substantive.
Divorce Pop-up
CCS Senate Bill 17 was passed by the Missouri Legislature during the 2019 session and signed by Governor Parson. The proposed amendments to 16 CSR 10-5.010(20) (PSRS) and 16 CSR 10-6.060(16) (PEERS) expand the Systems' current divorce pop-up provision to allow a pop-up to the Single Life benefit for individuals divorced prior to September 1, 2017. Certain requirements must be met. If the divorce decree provides for sole rights to the member's retirement benefit, the pop-up can be accomplished by the ex-spouse signing a consent and disclaimer form and providing it to the Systems. If the divorce decree does not provide the member with sole rights to the retirement benefit, the parties must return to court to obtain an amended decree.
Following discussion, these amendments were approved by unanimous vote and will be filed with the Secretary of State, go through the rule making process and be published in the Missouri Register.
CEM Benchmarking
PSRS/PEERS participated in the CEM benchmarking study based on fiscal year 2018 performance. Mr. Dearld Snider from PSRS/PEERS and Ms. Kam Mangat with CEM Benchmarking Inc. presented a summary of the final report. CEM benchmarked PSRS/PEERS' service and costs compared to 64 leading global pension systems, including 11 in our peer group that are similar in size.
For the third straight year, the results were very positive with an overall service score of 90 out of 100. PSRS/PEERS' service score was the highest in our peer group, and fifth among the 64 systems in the CEM universe. This high level of service was provided in a cost-efficient manner with total administration costs below the peer average and drastically below the average cost of the CEM universe.
Ms. Mangat explained to the Board how CEM measures both costs and service by analyzing over 120 key performance metrics. Mr. Snider expressed his appreciation to CEM, but most importantly to the staff of PSRS/PEERS for continuing to provide a high level of service in a cost-efficient manner.
Member Services Report
Ms. Nicole Hamler of PSRS/PEERS shared with the Board a video highlighting the member services' staff, and which reviewed statistics for the 2018-2019 fiscal year regarding the number of inquiries handled by the information center, records, retirements, deaths and refunds processed, and total member education meetings held throughout the state. Ms. Hamler also presented to the Board information regarding total membership statistics, active service information, benefits, working after retirement and Web Member Services usage.
Facility Renovation
Mr. Snider provided a high-level recap of the construction timeline as well as Bid Package 1 (geothermal bore fields, pipe installation, demolition of the maintenance facility, three-lane south exit and new west parking lot) and Bid Package 2 (new addition and renovation). He also shared with the Board a project budget update and future dates of Board Meetings that will be held offsite due to the facility renovation.
CPI-U Update
Mr. Steve Yoakum reviewed the COLA policy that was set by the Board of Trustees at the November 3, 2017 meeting. Effective with the January 2019 COLA, the policy will be:
Board Approved Funding Policy
CPI-U
COLA per Board-Approved Funding Policy
Less than 0.0%
0.0%
0.0%-2.0%
0.0% when CPI-U is cumulatively below 2.0%
0.0%-2.0%
2.0% when CPI-U cumulatively reaches 2.0% or more*
2.0%-5.0%
2.0% when the CPI-U is at least 2.0%, but less than 5.0%
5.0% or more
5.0%
*resets cumulative calculation after a COLA is provided
Mr. Yoakum explained that the Consumer Price Index for Urban Consumers (CPI-U) is calculated by the Bureau of Labor Statistics (BLS). The CPI-U is the measure of the change in prices of goods and services purchased by urban consumers between any two time periods. PSRS/PEERS' regulation requires that the time period for the CPI-U calculation used in the determination of a COLA be from June to June. Based on the values provided by the BLS, the CPI-U is up 1.6485% through June 30, 2019.
Raw CPI-U Index Values
Index Values
June 2018
251.989
Month
To-Date
July 2018
252.006
0.0001
0.0067%
August 2018
252.146
0.0006
0.0623%
September 2018
252.439
0.0012
0.1786%
October 2018
252.885
0.0018
0.3556%
November 2018
252.038
-0.0033
0.0194%
December 2018
251.233
-0.0032
-0.3000%
January 2019
251.712
0.0019
-0.1099%
February 2019
252.776
0.0042
0.3123%
March 2019
254.202
0.0056
0.8782%
April 2019
255.548
0.0053
1.4124%
May 2019
256.092
0.0021
1.6282%
June 2019
256.143
0.0002
1.6485%
The CPI-U calculation for Fiscal Year 2019-2020 is unchanged:
Raw CPI-U Index Values 2019-2020
Index Values
June 2019
256.143
Month
To-Date
July 2019
256.571
0.0017
0.1671%
The beginning CPI-U for 2019-2020 is at .1671% through July 31, 2019, which brings the total cumulative to 1.8156%. The August reading for the CPI-U will not be released until September 12, 2019.
Closed Session
The Board went into closed session at 11:20 a.m.
Adjournment
The Board adjourned at 12:20 p.m.
This summary is not official minutes of the PSRS/PEERS Board of Trustees Meeting. The official minutes will be approved at the next PSRS/PEERS Board of Trustees meeting and will posted to our website at that time.