PSRS/PEERS Board Vice Chair, Jason Hoffman, Receives Leadership Award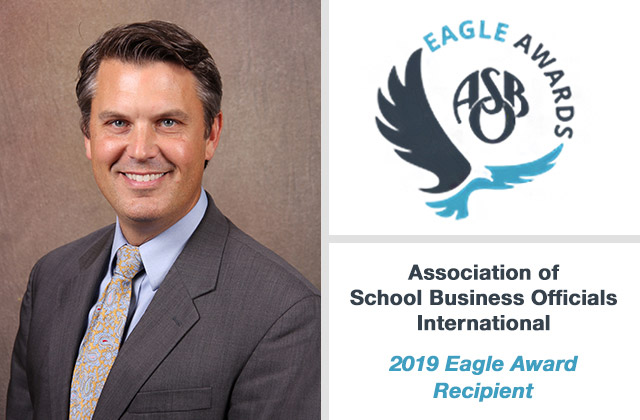 Jason Hoffman was recently honored with the 2019 Distinguished Eagle Award from the Association of School Business Officials International (ASBO). Hoffman, who currently serves as vice-chair of the Public School and Education Employee Retirement Systems of Missouri (PSRS/PEERS) Board of Trustees, is chief financial officer/chief operations officer for Jefferson City Public Schools.
The Eagle Awards is a lifetime achievement awards program that celebrates the very best in school business leadership, recognizing school business officials who serve as change agents and go above and beyond the day-to-day to serve students. The Distinguished Eagle Award is given to three individuals each year.
Hoffman will receive the honor in October at ASBO International's Annual Conference & Expo, in National Harbor, Maryland.
Currently serving his third term on the PSRS/PEERS Board of Trustees, Hoffman serves a vital role at Jefferson City Public Schools, managing all support services for the district including food services, facilities and grounds, transportation, technology, and the district's operating budget. Previously, he served as business manager for both the Hallsville R-IV and Centralia R-VI school districts.
Hoffman also is a past president of the Missouri Association of School Business Officials (MoASBO).
"Jason's leadership and commitment to the students and staff of the Jefferson City Public Schools, as well as to the members of PSRS/PEERS, are possible because of his sincere dedication to helping ensure both organizations are professionally run and fiscally sound," said PSRS/PEERS Executive Director Steve Yoakum. "We congratulate him on this well-deserved honor."