April 2019 Board Meeting Summary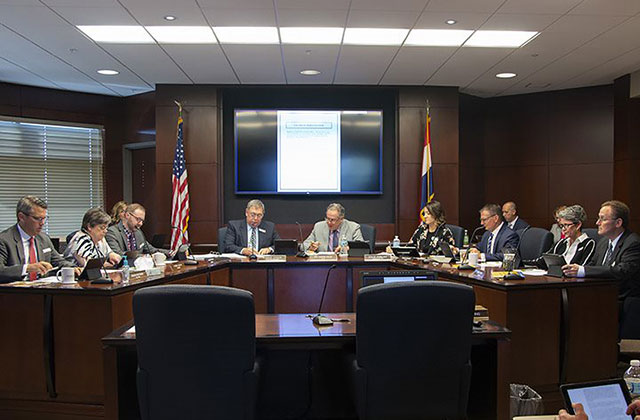 The Budget and Audit Committee of the Public School and Education Employee Retirement Systems of Missouri (PSRS/PEERS) Board of Trustees convened at 8 a.m. Monday, April 15 in the Retirement System offices in Jefferson City, MO, with the regular session of the Board of Trustees meeting following at 8:45 a.m.
In attendance were Board members Aaron Zalis, Yvonne Heath, Beth Knes, Jason Hoffman, Scott Hunt, Chuck Bryant and Jason Steliga. Also present were Executive Director, M. Steve Yoakum; Assistant Executive Director, Investments, Craig Husting; Assistant Executive Director, Operations, Dearld Snider; General Counsel, Sarah Swoboda; Chief Financial Officer, Anita Brand; Director of Member Services, Nicole Hamler; Director of Employer Services, Omar Davis; Director of Legislation and Policy, Maria Walden; Director of Internal Audit, Jeff Hyman; Director of Communications, Susan Wood; Chief Technology Officer, Bill Betts; Director of Administrative Planning and Design, Stacie Verslues; and various other PSRS/PEERS staff members.
---
Budget and Audit Committee
Minutes
The open session minutes from the February 11, 2019 Budget and Audit Committee meeting were approved by unanimous vote.
Preliminary 2019-2020 Budget Discussions
Mr. Dearld Snider and Ms. Anita Brand of PSRS/PEERS led a compensation and budget discussion in preparation for the upcoming fiscal year. Mr. Snider reviewed the Board of Trustees' compensation strategy by highlighting the purpose, principles and overall approach of the strategy.
Mr. Snider also explained the difference between the cost of living and the cost of labor, since CBIZ, PSRS/PEERS' compensation consultant, recommends market data adjustments based on the cost of labor.
Cost of Living vs. Cost of Labor
Cost of Living
Reflects the cost of goods utilized by a typical consumer, including items such as housing, groceries and transportation
Measured by the government through the Consumer Price Index (CPI)
Cost of Labor
Reflects what a particular geographic market offers as compensation for a specific type of work
Reflects the supply and demand for labor for specific roles
Measured through third-party salary surveys
Mr. Snider discussed the comprehensive compensation study that is conducted every three years, the last of which was conducted by CBIZ in April 2017. CBIZ previously concluded that the current compensation strategy aligned with good governance and best practices.
Ms. Brand described the budgeting process, which begins in the second quarter of each calendar year. The breakdown of the budget includes two broad categories:
Investment expenses
Administrative expenses, inclusive of capital assets
Final detailed budget requests will be presented to the Budget and Audit Committee and the Board of Trustees during the June 2019 meeting.
Regular Board Meeting
System Operations
Minutes
The open session minutes from the February 11, 2019 Board meeting were approved by unanimous vote.
Order of Business
None
Election of Chair and Vice Chair
Dr. Aaron Zalis was elected to serve as chair of the Board and Mr. Jason Hoffman as vice chair of the Board for the period of July 1, 2019 through June 30, 2020. Both were elected by unanimous vote.
Interest Credit Rate
Ms. Anita Brand reviewed the process for setting the interest rate credited to member accounts each June 30. Previously, the Board set the interest rate in April that would be used when adding interest to the member accounts on June 30 of that year. For example, in April 2018 the Board set the interest rate at 2.0% for the 2017-2018 (June 30, 2018) fiscal year.
However, the Board of Trustees approved an amendment to the interest rate regulation in August 2018. The amendment allows the Board to set the interest rate to be used in the next fiscal year, and therefore interest will be posted at the end of the next fiscal year using that rate. Ms. Brand discussed that this amendment and change in procedure alleviates administrative issues, especially related to corrections, that arise when the interest rate changes from one year to the next. To implement the amended regulation this first year, the Board needed to approve the interest rate for both the fiscal year 2018-2019 and fiscal year 2019-2020. Staff recommended the interest rate be set at 2.0% for the fiscal year ended June 30, 2019. Staff also recommended setting the interest rate at 2.0% effective July 1, 2019 to be credited on June 30, 2020. The Board of Trustees approved staff's recommendations by unanimous vote.
Purchase Interest Rate
Ms. Anita Brand presented information to the Board of Trustees on the purchase interest rate. According to Board Regulation (16 CSR 10-4.012 (4)), prior to July 1 each year, the Board of Trustees shall establish a "purchase rate" of interest based on the actuarially assumed rate of return on invested funds of the Retirement Systems. The purchase interest rate shall apply to any amount due for reinstatement of service or for the purchase of service, except as otherwise specified by law. Staff recommended the purchase interest rate be set at the current assumed rate of return of 7.5%. The Board of Trustees approved staff's recommendation by unanimous vote.
Investment Report
Ongoing Investment Activity
Mr. Craig Husting from PSRS/PEERS and Mr. Barry Dennis from Verus reviewed ongoing investment activities, which included estimated investment performance through March 31, 2019. The estimated investment return for PSRS and PEERS for fiscal year 2019 (July 1, 2018 through March 31, 2019) was approximately 3.3%. Mr. Husting presented the current asset allocation of the PSRS/PEERS portfolio, in which he reviewed the long-term strategy, portfolio themes and the broad portfolio expectations. Mr. Husting also reviewed the tentative Board investment calendar.
Real Estate Portfolio Review
Ms. Susan Conrad and Ms. Chhayhea Sam from PSRS/PEERS reviewed the Systems' Real Estate portfolio including program objectives, guidelines and long-term results. The five-year annualized return for the Real Estate composite for the period ended December 31, 2018 was 10.8%.
Private Equity Annual Review: Pathway
Mr. Doug LeBon, Mr. Vincent Dee, and Mr. John Ruggieri from Pathway Capital Management (the Systems' Private Equity Consultant), presented a number of items to the Board, including: an organizational update of Pathway; a review of the private market environment; an update on the PSRS/PEERS' Private Equity, Private Credit and Co-investment portfolios that Pathway consulted on; recent commitments; and, an investment plan for calendar year 2019. Pathway reported that the PSRS/PEERS' Private Equity portfolio (that Pathway consulted on) had produced an annualized return of 15% for the 10-year period ended December 31, 2018 relative to the Russell 3000 public equity benchmark of 13.2%.
Management Report
Legislative Update
Mr. Jim Moody, legislative consultant, updated the Board on the current legislative session. Mr. Moody reported briefly on state revenue and gave an update on the March 2019 state revenue to the Board.
Ms. Maria Walden of PSRS/PEERS reviewed the upcoming important legislative dates, the legislative statistics and new legislation filed. There are several bills that have been filed this year that have a direct impact on the Systems:
House Bill (HB) 69 allows active PSRS members who have more than 31 years of service to retire with a benefit factor of 2.55% instead of the current benefit factor of 2.5%. This bill repeals the July 1, 2014 termination date of a provision allowing PSRS members who have 31 of more years of service to have their retirement benefit calculated using a benefit factor of 2.55%.
House Bill (HB) 77 and Senate Bill (SB) 17 allow all PSRS retirees who return to work for community colleges to be covered under the 550 hours and 50% of salary statutory work limits (this exempts them from the $15,000 salary/no hourly limit provision passed last session). No contributions would be required from the employer or retiree. This bill does not contain a refund provision.
PricewaterhouseCoopers (PWC), the Systems' actuary, prepared a cost statement that indicates this bill would have no fiscal impact to PSRS and the fiscal impact to PEERS would be an insignificant loss.
The Board previously went on record unanimously in support of HB 77 and SB 17 as long as the bills(s) do not contain a refund provision, which would jeopardize PSRS/PEERS' federal tax exemption status.
HB 77 was truly agreed to and finally passed by the Missouri General Assembly on April 4, 2019. This bill contains an emergency clause, which means that the bill will take effect as soon as the governor signs the bill. Because we are in the middle of session, the governor has 15 days to sign or veto any bill that is truly agreed to and finally passed. The bill was sent to the governor on April 9, 2019.
House Bill (HB) 201 requires that each public pension plan in Missouri provide a pension statement to members. This statement must be provided annually and must include:
The participant's accrued contributions to the plan
The date the participant is first eligible for a normal retirement
The date of the plan's valuation
The plan's funded ratio
Notice if the plan is on the Joint Committee on Public Employee Retirement's annual watch list
Notice if the actuarially determined contribution to fund the plan has not been made, unless the plan is unable to make such contribution due to statutory limitations
An electronic link or website address to view the plan's Comprehensive Annual Financial Report.
House Bill (HB) 362 increases the annual cap on the numbers of hours a retired teacher may serve as a substitute teacher without impacting the payment of his or her retirement benefits from 550 hours to 700 hours per school year.
PWC provided a cost statement on HB 362. The actuarially determined contribution rate is a sum of two parts: 1. Normal cost rate – the present value of future benefits and 2. Unfunded actuarial accrued liability. The actuary provided costs based on a range of possible usage of the increased annual cap on work hours provided by HB 362 from an additional 5% of members who would retire earlier and a 1% decrease in payroll, to an additional 10% of members who would retire early and a 3% decrease in payroll. This range of possible usage provided by the actuary would result in an increase in the normal cost to PSRS of between $18.3 million and $227 million. The increase in cost to the PSRS liability would be $26.1 million to $312.2 million. For PEERS, the increase the normal cost would be between $5.2 million and $69 million. The increase in cost to the PEERS liability would be between $5.6 million and $76.9 million.
House Bill (HB) 459 repeals a provision that allows a PSRS retiree to be employed in a position covered by PEERS and earn up to 60% of the minimum teacher's salary as set forth in Section 163.172 RSMo.
PSRS retirees would be allowed to earn up to 50% of their salary as an active employee as outlined in the bill.
The provision requiring contributions to be paid to the Retirement System by the hiring employer of such person is also repealed.
House Bill (HB) 723 allows any retiree who selects a Joint-and-Survivor benefit plan and has a subsequent divorce, or any retiree who has already been divorced, to get a benefit "pop-up" to the Single Life benefit plan amount upon receipt of an application by PSRS/PEERS, as long as the following occurs:
For divorces that occur after September 1, 2017, the divorce decree must clearly state that the retiree retains sole retention of his/her retirement benefit and that the ex-spouse is relinquishing all rights to his/her benefit (no change from current statute).
For divorces that occurred before September 1, 2017, the divorce decree must clearly state that the retiree retains sole retention of his/her retirement benefit and that the ex-spouse is relinquishing all rights to his/her benefit, and:

The parties obtain an amended or modified divorce decree after September 1, 2017, or
The spouse named as beneficiary consents in writing to his/her immediate removal as the named beneficiary and disclaims all rights to future benefits to the satisfaction of the PSRS/PEERS Board of Trustees.

For divorces that occurred before September 1, 2017, and the divorce decree does not provide for sole retention by the retired person, the parties must obtain an amended or modified divorce decree after September 1, 2017, which provides for sole retention by the retired person of all rights to the retirement allowance.
HB 723 has passed the House last week and has been referred to Senate Health and Pensions Committee.
House Bill (HB) 864 creates a Defined Contribution Option for all PSRS members.
Allows all PSRS members to elect a defined contribution retirement option

Member are not allowed to change the election once made.
Members cannot participate in both the defined benefit option as well as the defined contribution option.

Requires employers to contribute 5% of payroll (as well as Social Security contribution of 6.2%, total contributions would be 11.2%) for any member who elects the defined contribution option.
Requires employees to select their contribution level between 3% and 50% (as well as Social Security contribution of 6.2%, total contribution would be 9.2% to 56.2%) of payroll unless restricted by federal law.

Employees shall select specific investment options.
PWC is currently working on a cost statement regarding this provision.
House Bill (HB) 1011 creates the "Anti-Discrimination Against Israel Act."
Prohibits public entities from entering into contracts with companies that commence a boycott of Israel or its territories
Requires written certification to ensure that a company will not engage in such activities during the duration of the contract
Does not apply to contracts of less than $100,000 or contractors with fewer than 10 employees.
Ms. Walden also discussed other legislation the Systems are monitoring, but which does not have a direct impact on the Systems.
Actuarial Services
Ms. Brand discussed the current contract and history with our actuary, PricewaterhouseCoopers (PwC). PwC's initial contract was renewed through negotiation for an additional five years through the fiscal year 2018 engagements. State statute requires the Systems to have an actuarial audit at least every 10 years and to perform an experience study at least every five years. Ms. Brand reminded the Board that changing actuaries is not in and of itself a negative practice but changing actuaries should not be done at frequent intervals due to the substantial learning curve. The number of actuarial firms with a focus on defined benefit plans, specifically public defined benefit plans, has decreased significantly. As discussed in February 2019, staff negotiated new contract terms with PwC. The new terms extend the contract for five years. In addition, the costs for annual recurring deliverables decreases from our current rates for the first three years of the contract. The Systems retain the ability to terminate the contract if the Board desires to in the future. Staff recommended the Board renew PwC's contract for an additional five years based on the new terms. Staff also recommended that an actuarial audit be done every five years instead of 10. The Board of Trustees approved staff's recommendations by unanimous vote.
Board Governance Policies
Mr. Steve Yoakum, Mr. Husting and Ms. Brand reviewed the two items from the Board Governance Report that were deferred from the February Board Meeting. Cortex had recommended the Board consider whether the executive director should be authorized to select and appoint specialty and asset class consultants rather than having to obtain Board approval. After review of the proposed changes, staff recommended that the Board retain authority to approve specialty investment asset class consultants. Cortex also recommended that the Board of Trustees' Ethics Policy be revised and included in the Board Governance Policies. Based on staff's review, revisions were made to make the policy more concise and consistent with current practices. In addition, revisions were made to include additional information on insider trading and disclosure of communications regarding investment transactions. Staff also recommended including the Board of Trustee's Ethics Policy as part of the Board Governance Policies. The Board of Trustees approved staff's recommendations by unanimous vote.
Facility Renovation
Mr. Snider presented on our current renovation timeline and our process for selecting a Construction Manager at Risk (CMAR). When selecting the CMAR, staff utilized the following selection criteria: price, experience/past performance, firm history, proposed personnel, methodology/approach, safety record and references. Mr. Snider reported that all firms interviewed were extremely qualified, but ultimately, we have chosen River City Construction. River City has a strong presence in Missouri and has recently completed such projects as the South Providence Medical Building with the University of Missouri Healthcare and the Fulton State Hospital.
Member Services – Member Education Update
Director of Member Services, Ms. Nicole Hamler and Member Education Supervisor, Ms. Amanda Wooten, presented an update on Member Education, a section within the Member Services Department. Ms. Hamler gave a general overview of the section and the different programs offered by Member Education. Ms. Wooten discussed in detail two programs: Web Counseling and Quick Counseling. Web Counseling has been gaining in popularity, with a 65% increase in use since the 2015-2016 school year. Quick Counseling is a new program that began in January 2019. For this program, Member Education counselors travel to school districts and offer one-on-one quick counseling sessions that members can sign up for in advance. These sessions typically last 15 to 20 minutes, and a personalized benefit estimate is provided. Since the inception of Quick Counseling, counselors have visited four school districts and counseled over 100 members this way.
Ms. Hamler discussed future plans for Member Education and explained that while continuing to look to the future, it is crucial to always keep the section's goals at the forefront. These goals include: Providing exceptional service to members as the face of PSRS/PEERS, reaching as many members as possible, offering many different educational platforms, and evolving with technology to find new ways to meet members' needs.
Ms. Hamler also explained to the Board that these goals not only provide a foundation to operate, but also support and foster the overall strategic plan of PSRS/PEERS. Member Education contributes to the key focus area of engagement by fostering trust and maintaining positive relationships with members at all career stages. Innovation is not limited to the use of technology, but also includes finding different and innovative ways to educate and meet with members. Ms. Hamler stated that she expects Member Education will continue to grow with technology and members' expectations.
CPI-U Update
Mr. Steve Yoakum reviewed the COLA policy that was set by the Board of Trustees at the November 3, 2017 meeting. Effective with the January 2019 COLA, the policy will be:
2017 Board Approved Funding Policy Effective for January 1, 2019 COLA
CPI-U
COLA per Board-Approved Funding Policy
Less than 0.0%
0.0%
0.0%-2.0%
0.0% when CPI-U is cumulatively below 2.0%
0.0%-2.0%
2.0% when CPI-U cumulatively reaches 2.0% or more*
2.0%-5.0%
2.0%
more than 5.0%
5.0%
*resets cumulative calculation after a COLA is provided
Mr. Yoakum explained that the Consumer Price Index for Urban Consumers (CPI-U) is calculated by the Bureau of Labor Statistics (BLS). The CPI-U is the measure of the change in prices of goods and services purchased by urban consumers between any two time periods. PSRS/PEERS' regulation requires that the time period for the CPI-U calculation used in the determination of a COLA be from June to June. Based on the values provided by the BLS, the CPI-U is up 0.8782% for the first nine months of fiscal year 2019.
Raw CPI-U Index Values
Index Values
June 2018
251.989
Month
To-Date
July 2018
252.006
0.0001
0.0067%
August 2018
252.146
0.0006
0.0623%
September 2018
252.439
0.0012
0.1786%
October 2018
252.885
0.0018
0.3556%
November 2018
252.038
-0.0033
0.0194%
December 2018
251.233
-0.0032
-0.3000%
January 2019
251.712
0.0019
-0.1099%
February 2019
252.776
0.0042
0.3123%
March 2019
254.202
0.0056
0.8782%
The April reading for the CPI-U will not be released until May 10, 2019.
Public Comment
None
Closed Session
The Board went into closed session at 12:00 p.m.
Adjournment
The Board adjourned at 3 p.m.
This summary is not official minutes of the PSRS/PEERS Board of Trustees Meeting. The official minutes will be approved at the next PSRS/PEERS Board of Trustees meeting and will be posted to our website at that time.