Hamler Named PSRS/PEERS Director of Member Services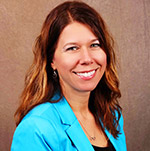 Nicole Hamler of Jefferson City, MO has been named director of member services for the Public School and Education Employee Retirement Systems of Missouri (PSRS/PEERS), effective October 16, 2018. She takes over the position from interim director Sarah Swoboda.
Hamler has been a part of the PSRS/PEERS staff since 2002, when she joined the organization as an information center representative. Since then, she has advanced through a series of progressively more responsible positions, serving in key roles in both the member services department and on the executive management team.
"Nicole's extensive experience here at PSRS/PEERS gives her a unique outlook and the knowledge necessary to be an effective leader in our member services department," said Executive Director Steve Yoakum. "We are happy that she will apply her knowledge and skills to help PSRS/PEERS continue to provide our members with the highest level of member service possible."
Hamler holds a Master of Business Administration degree from Lincoln University. She currently serves as vice president of the Missouri Association of Public Employee Retirement Systems (MAPERS) board and has previously served as president of the Mid-Missouri Disaster Recovery Network board.
Learn more about the PSRS/PEERS management team.