August 2018 Board Meeting Summary
The August 27, 2018 meeting of the Public School and Education Employee Retirement Systems of Missouri (PSRS/PEERS) Board of Trustees convened at 8 a.m. In attendance were Board members Aaron Zalis, Yvonne Heath, Beth Knes, Jason Hoffman, Scott Hunt, Chuck Bryant and Jason Steliga. Also present were Executive Director, M. Steve Yoakum; Assistant Executive Director, Investments, Craig Husting; Assistant Executive Director, Operations, Dearld Snider; General Counsel, Alan Thompson; Chief Financial Officer, Anita Brand; Director of Member Services, Sarah Swoboda; Director of Employer Services, Omar Davis; Director of Legislation and Policy, Maria Walden; Internal Auditor, Jeff Hyman; Director of Communications, Susan Wood; Chief Technology Officer, Bill Betts; Director of Administrative Planning and Design, Nicole Hamler; and various other PSRS/PEERS staff members.
---
System Operations
Minutes
The open session minutes from the June 11, 2018 (Board education) and June 12, 2018 meetings were approved by unanimous vote.
Investment Report
Fiscal Year 2018 Performance and Attribution
Mr. Craig Husting from PSRS/PEERS and Mr. Barry Dennis from Verus (the Systems' Investment Consultant) provided a detailed presentation on the PSRS/PEERS fiscal year 2018 investment performance. The presentation included the following: (1) A review of the Systems' investment principles, objectives and philosophy; (2) A summary of fiscal year 2018 performance; (3) PSRS/PEERS' performance relative to expectations and relative to a peer group; (4) Attribution for fiscal year 2018 performance; (5) A review of fiscal year 2018 objectives and a description of fiscal year 2019 objectives; (6) A review of the actuarial assumed rate of return for PSRS/PEERS; and (7) A market outlook and update on fiscal year 2019.
Mr. Husting reported that the fiscal year 2018 (July 1, 2017 through June 30, 2018) investment return for PSRS/PEERS was 8.9%, or 8.7% net of all fees and expenses. The Systems outperformed the passive benchmark which returned 7.4% for the year. The PSRS/PEERS internal investment staff and external investment managers added value above the policy benchmark of over $540 million, net of all fees and expenses, for the year. The outperformance in 2018 was due to portfolio construction and tactical asset allocation decisions by internal investment staff (overweighting and underweighting asset classes around targets) as well as active management on the part of external managers.
Mr. Husting reported that the five-year annualized return for the Systems for the period ending June 30, 2018 was 8.8%. The five-year PSRS and PEERS investment return exceeded 65% of the peer group as defined by the Wilshire TUCS universe of public pension plans with assets in excess of $1 billion. The Systems generated the investment return while taking less risk than approximately two-thirds of comparable public funds.
Mr. Husting reported that the actuarial assumed rate of return (discount rate) for PSRS/PEERS was moved from 7.75% to 7.6% for the period beginning July 1, 2017, with a bias toward moving the rate lower in the future as financial conditions warranted. He reported that the average assumed rate of return for public plans in the National Association of State Retirement Systems (NASRA) database was 7.32% as of June 2018. Mr. Husting also stated that the actuary would present additional analysis of lower discount rate options to the Board in October.
Management Report
Appointment of National Council on Teacher Retirement (NCTR) Conference Delegates
Ms. Yvonne Heath, Mr. Chuck Bryant and Mr. Steve Yoakum were nominated by a unanimous vote to serve as delegates, with Mr. Dearld Snider and Ms. Nicole Hamler as the alternates, at the annual NCTR Conference being held in Washington DC in October 2018.
SB 892 Amendment
Senate Bill 892 was passed by the Missouri legislature during the 2018 regular legislative session and signed by the governor. The bill amends sections 169.560, RSMo. The proposed amendment is to 16 CSR 10-5.010 and amends parts of subsection (6). It also deletes subsection (7) that sets forth the community college conversion formula. Subsection (7) is no longer needed because the provisions of SB 892 apply to PSRS retirees working for community colleges. Therefore, there is no longer an hour limit for PSRS retirees employed by community colleges and the new salary limit in SB 892 applies.
The changes mostly track the language in section 169.560 as amended by SB 892. However, there is some additional detail provided in an attempt to make it clearer when the 550 hour/50% of salary limits apply and when the SB 892 60% of minimum teacher salary limit applies. The amendment adds subsections under (6) to delineate between the different limits. No change is required for the PEERS regulation, as SB 892 applies only to PSRS retirees.
Pursuant to the statutory changes, PSRS/PEERS staff recommended amendments to its existing regulations. These amendments were approved by unanimous vote and will be filed with the secretary of state, go through the rule making process and be published in the Missouri Register.
Interest Rate Regulation Amendment
The proposed amendment to 16 CSR 10-3.020(7) would have the Board set the interest rate to be used in the next fiscal year in April, and interest would be posted at the end of the next fiscal year using that rate. This proposed amendment and change in procedure will alleviate administrative issues, especially related to corrections, that arise when the interest rate changes from one year to the next.
Following discussion, these amendments were approved by unanimous vote and will be filed with the secretary of state, go through the rule making process and be published in the Missouri Register.
Mailing Policy Review
Mr. Alan Thompson from PSRS/PEERS reviewed the December 2016 decision to rescind the 1984 mailing policy as requested by the Board of Trustees at the June 2018 Board meeting. He reviewed the history of the PSRS/PEERS third-party mailing policy. Mr. Thompson asked for Board direction on the following: 1) Decide whether to maintain the current policy of providing no third-party mailing assistance, 2) Consider adopting the draft third-party mailing policy provided in December 2016, or 3) Ask staff to draft another third-party mailing policy for review in October 2018.

Following discussion, the Board requested that staff draft another third-party mailing policy for the October 2018 meeting to assist educational associations in an annual mailing. This request was approved by approved by unanimous vote
Member Services Report
Ms. Sarah Swoboda from PSRS/PEERS presented statistics for the 2017-2018 fiscal year regarding the number of retirements, deaths, refunds and member education meetings, as well as other projects in the member services department over the last year.
CEM Benchmarking Report
PSRS/PEERS participated in the CEM benchmarking study based on fiscal year 2017 performance. Mr. Dearld Snider from PSRS/PEERS and Ms. Kam Mangat, with CEM Benchmarking Inc., presented a summary of the final report. CEM benchmarked PSRS/PEERS' service and costs compared to 42 leading global pension systems, including 11 in our peer group that are similar in size.
For the second straight year, the results were very positive with an overall service score of 90 out of 100. PSRS/PEERS' service score was the highest in its peer group, and third among the 42 systems in the CEM universe. This high level of service was provided in a cost-efficient manner with total administration costs below the peer average and drastically below the average cost of the CEM universe.
Ms. Mangat explained to the Board how CEM measures both costs and service by analyzing over 120 key performance metrics. Mr. Snider expressed his appreciation to CEM, but most importantly to the staff of PSRS/PEERS for continuing to provide a high level of service in a cost-efficient manner.
Strategic Plan Presentation
Mr. Dearld Snider provided an update on the strategic planning project which began in April 2018. He provided a brief overview of the project over the last couple of months, during which time PSRS/PEERS' management worked with a consultant to begin developing the plan. In May 2018 the management team spent a day discussing the Systems' mission and goals while participating in multiple exercises focused on the creation of the strategic plan. In mid-June each Board member had a one-one-one interview with the consultant. Management then dedicated a half-day in July 2018 to discuss information gathered from the May meeting and June telephone interviews.
Mr. Snider reviewed the mission statement, goals and focus areas with the Board. He went through each focus area in detail and discussed the strategies that make up each area. The four focus areas include:
System and Financial Stability – Focus on keeping the plan stable and secure for perpetuity
Culture of Excellence – Focus on providing the highest level of customer service for members while maintaining a high-quality work culture for staff
Engagement – Focus on positive relationships with members, employers, education associations and all other constituents
Innovation – Focus on being proactive and constantly looking for ways to improve all aspects of our organization
He also reviewed the next steps with the Board and stated that he will present the completed strategic plan to the Board at the December 2018 Board meeting.
CPI-U Update
Mr. Steve Yoakum of PSRS/PEERS discussed the current COLA policy that was set by the Board of Trustees effective with the January 2019 COLA:
2017 Board Approved Funding Policy Effective for January 1, 2019 COLA
CPI-U
COLA per Board-Approved Funding Policy
Less than 0.0%
0.0%
0.0%-2.0%
0.0% when CPI-U is cumulatively below 2.0%
0.0%-2.0%
2.0% when CPI-U cumulatively reaches 2.0% or more*
2.0%-5.0%
2.0%
more than 5.0%
5.0%
*resets cumulative calculation after a COLA is provided
Mr. Yoakum explained that the Consumer Price Index for Urban Consumers (CPI-U) is calculated by the Bureau of Labor Statistics (BLS). The CPI-U is the measure of the change in prices of goods and services purchased by urban consumers between any two time periods. PSRS/PEERS' regulation requires that the time period for the CPI-U calculation used in the determination of a COLA be from June to June. Based on the values provided by the BLS, the CPI-U is up 2.8715% through June 30, 2018.
Raw CPI-U Index Values
Index Values
June 2017
244.955
Month
To-Date
July 2017
244.786
-0.0007
-0.0690%
August 2017
245.519
0.0030
0.2302%
September 2017
246.819
0.0053
0.7610%
October 2017
246.663
-0.0006
0.6973%
November 2017
246.669
0.0000
0.6997%
December 2017
246.524
-0.0006
0.6405%
January 2018
248.991
0.0054
1.1888%
February 2018
248.991
0.0045
1.6476%
March 2018
249.554
0.0023
1.8775%
April 2018
250.546
0.0040
2.2825%
May 2018
251.588
0.0042
2.7078%
June 2018
251.989
0.0016
2.8715%
The CPI-U calculation for Fiscal Year 2018-2019 is unchanged:
Raw CPI-U Index Values
Index Values

Jun-18

251.989

Month

To-Date

Jul-18

252.006

0.0001

0.0067%
Mr. Yoakum also reviewed the upcoming Board meeting timeline:
October 29, 2018: PSRS Board meeting

Presentation of actuarial valuation results by PwC

Approval of 2019-2020 contribution rates
Approval of January 2019 COLA

The COLA policy recommends a 2.0% COLA for eligible benefit recipients, effective January 1, 2019
Cumulative balance is reset to zero

December 10, 2018: PSRS Board meeting

Audit by independent audit firm
Comprehensive Annual Financial Report (CAFR) released
Facility Analysis and Planning Presentation
Mr. Snider presented information about facility and planning needs for PSRS/PEERS. He provided a perspective by looking at the past, present and future growth of the Systems. In 1994, when Mr. Yoakum became executive director, PSRS/PEERS had 39 employees to manage $10 billion in assets and pay monthly benefits to 31,027 retirees and beneficiaries. As of June 30, 2017, PSRS/PEERS employed 135 employees overseeing $41.7 billion in assets and paying 91,654 retirees and beneficiaries. The complexity and sophistication of PSRS/PEERS has grown while services to our members and employers have expanded.
Mr. Snider also reviewed the history of the 3210 W. Truman Blvd property.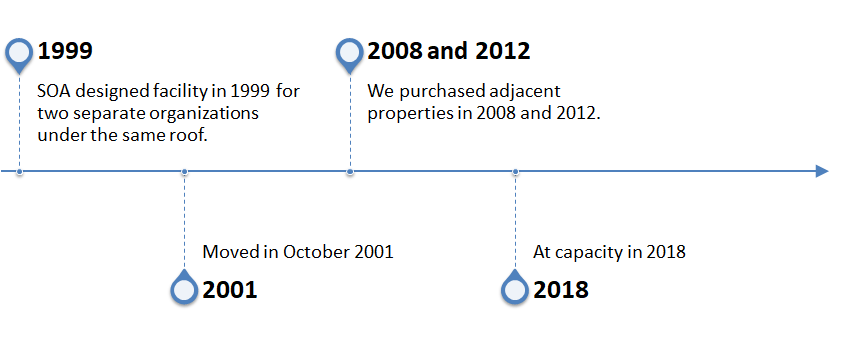 As discussed in the CEM benchmarking and strategic plan presentations, providing exceptional service to our members in a prudent and cost-efficient manner is key to all System decisions. Mr. Snider discussed areas of concern with the present building regarding our ability to continue to provide exceptional services to our members that is in alignment with the Systems' goals including:
The building is currently at capacity, with 135 employees plus seasonal staff (Projected need for approximately 30 more spaces over the next 10 years)
Need to integrate accounting and investment departments
Need a more private area for human resources
Need additional meeting spaces on all floors
Current Boardroom Concerns

Limits meeting sizes
Not designed for group presentations
Utilize two overflow rooms for Board meetings
Improve security

Lack of restrooms
Aging, inefficient infrastructure
Need additional parking
Based on the demographics of PSRS/PEERS members and the design of the investment portfolio, this growth will continue. Over the next 10 years, our actuaries can predict the growth of the Systems with relative certainty. The retiree population will grow by approximately 50% before reaching its peak of over 175,000 retirees and beneficiaries in about 2040. During this same period, the assets of the Systems will grow to approximately $100 billion before reaching a plateau.
The Board discussed in detail three options:
Remain in current facility and lease permanent space at a separate location
Renovate current facility and build an addition onto the back of the building
Construct a new facility on the adjacent land we currently own
After an in-depth discussion regarding the cost of the project as well as the pros and cons of each option, the Board voted unanimously to receive detailed plans on both Options 2 and 3. Staff was directed to continue working with the architects to fine tune the costs and timelines for each option. Mr. Snider will prepare a more detailed report and present the requested information during December's Board meeting.
Public Comment
none
Closed Session
The Board went into closed session at noon.
Adjournment
The Board adjourned at 1:30 p.m.
This summary is not official minutes of the PSRS/PEERS Board of Trustees Meeting. The official minutes will be approved at the next PSRS/PEERS Board of Trustees meeting and will posted to our website at that time.