PSRS/PEERS Selects New Director of Employer Services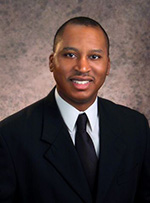 Omar Davis, of Columbia, MO, has been named director of employer services for the Public School and Education Employee Retirement Systems of Missouri (PSRS/PEERS) effective September 26, 2016. He replaces Jeff Russler, who recently retired.
"Omar brings experience and a proven track record with public pension systems that we are confident will make him an invaluable member of the PSRS/PEERS team," said Steve Yoakum, executive director. "We are pleased to welcome him to the Retirement Systems."
Most recently, Davis served as the investment legal and compliance counsel for the Missouri State Employees' Retirement System (MOSERS). Prior to that, he was general counsel at the MoDOT and Patrol Employees' Retirement System (MPERS). In addition, he served as director of revenue at the Missouri Department of Revenue from 2007 to 2009 and was director of the Missouri Department of Labor and Industrial Relations from October to December 2007.
Davis holds a Juris Doctorate degree from the University of Missouri - Columbia School of Law and a Bachelor of Science degree in psychology from Kansas State University.