PSRS/PEERS Management Team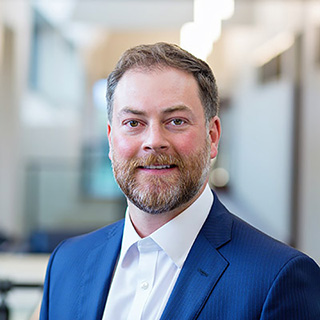 Michael Moorefield
Chief Counsel
Michael Moorefield joined PSRS/PEERS in April 2022 as the Systems' director of legislation and policy. In January 2023, he transitioned to the role of chief counsel for the Retirement Systems.
Michael provides legal advice, interpretations, opinions and assistance to the Board of Trustees, executive director and staff. He is responsible for the planning and coordination of state and federal legislative matters related to the Retirement Systems. In addition, he plans and coordinates the policy development of the Systems, working with the executive director and staff to establish policy directives.
Before joining PSRS/PEERS, Michael spent seven years as chief of staff and legal counsel for the Office of the Missouri State Auditor. He also has experience as deputy chief of staff and director of policy and legislative affairs for the Office of the Missouri State Treasurer. He began his career as an associate in public policy at the Polsinelli law firm.
Michael has a bachelor's degree in journalism in addition to a Juris Doctorate and Master of Business Administration from the University of Missouri-Columbia.