Funding Your PSRS Benefits
PSRS' funding comes from three sources: member contributions, employer contributions and investment earnings. Investment earnings are the primary source of funding for PSRS benefits.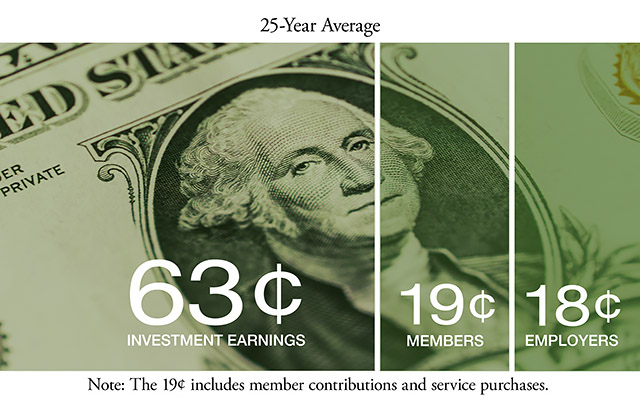 Contribution Rate
PSRS contributions are automatically deducted from your salary, pre-tax, to help fund your benefits.
Your employer contributes the same amount. Employer contributions are paid into a general fund used to pay monthly benefits for retirees and beneficiaries.
Your contributions and interest are always returned to you or to your beneficiary, in the form of monthly benefits or a refund of your contributions and interest.
The contribution rate is set each year by the PSRS/PEERS Board of Trustees. It is based on the recommendation of the Systems' actuary after the annual actuarial valuation has been completed.
The contribution rate for the 2018-2019 school year (July 1 to June 30) is 14.5% for members and 14.5% for employers.
Social Security
Most PSRS members do not pay Social Security taxes on their earnings while employed by PSRS-covered employers. Members employed in certain positions (determined by your employer and the Social Security Administration) pay into PSRS at a two-thirds rate, and also pay into Social Security at the full rate. See the Member Handbook for more information.