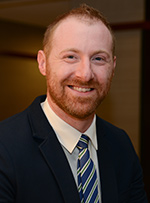 Jason Steliga Joins the PSRS/PEERS Board of Trustees
October 22, 2015
Jason Steliga, a high school science teacher for the Center School District, located in Kansas City, MO, has become a member of the Public School and Education Employee Retirement Systems of Missouri (PSRS/PEERS) Board of Trustees effective October 21, 2015. He was the only candidate to file for the open Board seat that resulted from the July 2015 retirement and resignation of former trustee Susan McClintic.
Individuals interested in running for a Board seat are required to obtain a petition form from PSRS/PEERS and submit it, along with 200 or more member signatures from each of any four Missouri congressional districts, and sufficient additional signatures to total at least 1,000. An auditing committee comprised of representatives of various Missouri educational associations examined Steliga's petition and certified to the Board that he is a qualified candidate. Because he was the only candidate who filed for this position, no election was required.
Steliga has 12 years of teaching experience and currently serves as the high school science department chair for the Center School District. He teaches advanced placement and upper-level science courses. Steliga was the 2014 Center High School teacher of the year, and a semi-finalist for the 2012-2013 U.S. Department of Education's Washington Teaching Ambassador Program. He is the treasurer of the Center Education Association, has served as a delegate to the NEA convention, and served on the Missouri National Education Association (MNEA) Legislative committee. He currently serves as the chair of the Membership Advisory Committee for MNEA.
"The Board welcomes Jason to his new role as a trustee. We believe his background and experience will serve him well as a member of this Board," said Dr. Aaron Zalis, chairman of the PSRS/PEERS Board of Trustees. "We feel confident that he will make an important contribution to the Retirement Systems, and look forward to working with him."
As for Steliga, he is ready for the new responsibility. "I am truly grateful to the committed members and trustees who, over the years, worked to build our strong and stable Retirement System," Steliga said. "I understand the responsibility of this new role and I am eager to give back by continuing their work to safeguard the Systems."
Steliga will serve out the remainder of McClintic's previous, four-year term, which will end on June 30, 2018.