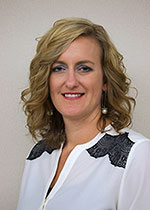 PSRS/PEERS Selects New Chief Financial Officer
July 21, 2015
Anita Brand of Jefferson City, MO has been named chief financial officer for the Public School and Education Employee Retirement Systems of Missouri (PSRS/PEERS) effective July 1, 2015. She replaces Lori Woratzeck, who is retiring.
"We are fortunate to work with Anita as a senior member of our investment team," said Craig Husting, PSRS/PEERS assistant executive director, investments and chief investment officer. "She has implemented policies and procedures to improve the operational efficiency of the investment department. We look forward to continuing to work with her as she expands her role at PSRS/PEERS to that of chief financial officer."
Ms. Brand came to PSRS/PEERS in November 2007, and has served as the director of investment accounting and financial reporting since that time. Prior to joining PSRS/PEERS, she was an audit manager with Williams Keepers, LLC working in the retirement and employee benefits sector. Ms. Brand is a certified public accountant with an accounting degree from Lincoln University.
Learn more about the PSRS/PEERS management team.