PSRS/PEERS Executive Director Honored by Missouri Association of School Administrators (MASA)
March 26, 2014
Steve Yoakum, executive director of the Public School and Education Employee Retirement Systems of Missouri (PSRS/PEERS), was recently honored by the Missouri Association of School Administrators (MASA) for his dedication to public education. Yoakum was one of eight individuals to receive the association's prestigious Friend of Education Award. The award was presented at the Association's annual spring conference, held March 19-21, 2014 at the Lodge of the Four Seasons in Lake Ozark, MO.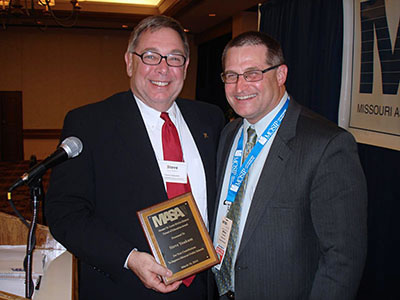 He was nominated by school administrators in the Greater St. Louis MASA district. "The awards committee wished to publicly acknowledge the dedication and honesty that Steve has shown year after year in making sure Missouri educators have a secure retirement. He is a trusted communicator and tireless advocate for our pensions," stated Jim Simpson, MASA representative.
This award is presented annually to recognize non-educators for their contributions to education locally or statewide.