Employers
The PSRS/PEERS employer community is essential to the operation of the Retirement Systems. To determine the proper amount of service earned by a member, we rely on our 534 partner-employers to report salary earned (payroll) and the expected annual base salary for each member for the school year.
Employers contribute to PSRS/PEERS at a rate equal to that of their employees, and send both member and employer contributions to PSRS/PEERS to help fund benefits.
PSRS/PEERS-covered employers include all Missouri public school districts (except the St. Louis city and Kansas City districts), Missouri public two-year colleges and statewide educational associations that have elected to join.
Order Additional Right for You, Right Now Brochures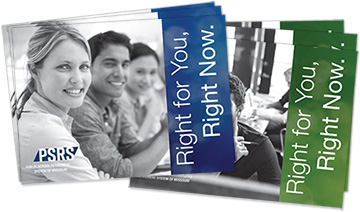 The PSRS and PEERS Right for You, Right Now brochures are intended for your new employees who are also new PSRS/PEERS members.
The goals of this campaign are to:
Help new PSRS/PEERS members better understand the advantages of Retirement System membership
Help them become familiar with our website, www.psrs-peers.org, and the important information it provides
Encourage them to designate beneficiaries with PSRS/PEERS as soon as possible
To order more, simply click the link below and fill out the re-order form. We'll process your request in the order in which they arrive and get them shipped to the address you provide in the form.